Since we seem to have a little downtime I thought I'd share this little success with you all.
I created a Sun talisman for Health, Vitality and Strength using the methodology described
here.
The only difference was that, rather than condense the elements myself, I substituted the Supreme Invoking Ritual of the Pentagram and asked the Angels of the quarters to fill the talisman with their respective elements.
The election I used is this one: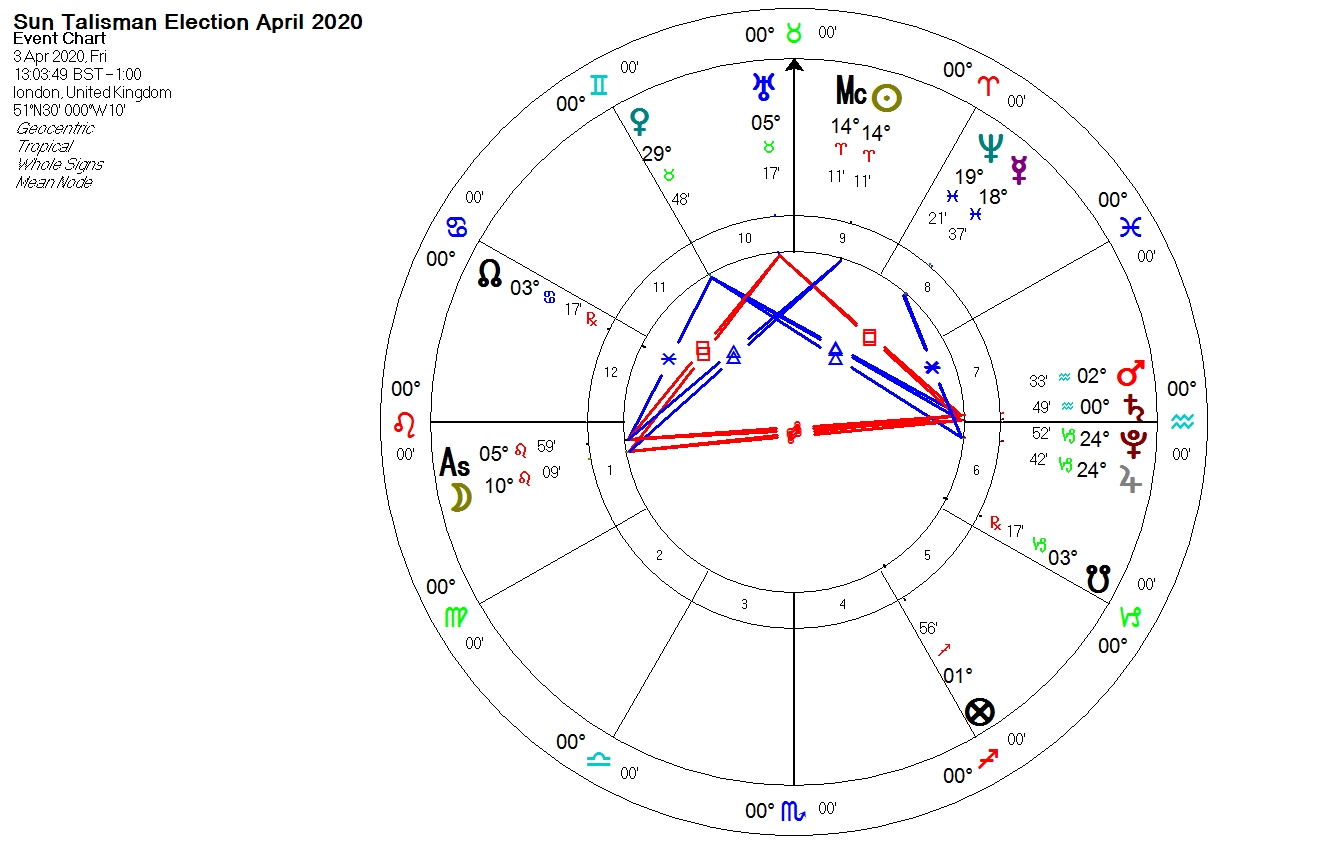 I made the talisman on a carnelian stone and used a simple sun incense made of frankincense resin, bay leaves, dates, raisins, and some mountain lion pelt soaked in frankincense oil. I used an image of my own creation to represent this desire.
I didn't have anything specific in mind beyond an increase in health and vitality when I made the talisman, but very quickly after I made the talisman the back pain I've had for a few years after a training accident practically disappeared overnight. I'd had the usual physiotherapy, acupuncture and a few other treatments for it, but my default temperament being melancholic/saturnine, I'd simply assumed that this was something that I'd have to live with and just got on with things, removing any activities from my life which might exacerbate the problem.
Well, right now, I seem to be able to squat heavy and deadlift again with nothing but the normal muscle soreness one would expect, and it feels pretty bloody great. It's not exactly a miracle cure, since I still have to deal with the
fear-stuck-in-the-body
that comes in the aftermath of any chronic musculoskeletal pain, but it's about as close to a miracle as I could have imagined.
As an aside, I've come to realise how much I detest the recent fashion of micromanaging one's life with magic. That way of doing things would have suggested doing magic to reduce pain, more magic to find a good doctor, magic to find money to pay for all of these treatments, then magic for a good orthopaedic surgeon, magic for successful surgery, magic to assist recovery, magic to avoid post-surgery opiate addiction, and so on.
While you are doing all of this magic, it certainly feels like you are making progress, because you are doing so much, but it completely ignores the fact that you cannot always imagine the best possible outcome. At best, if you are successful, you get precisely what you want and nothing else - which is a horribly boring way to live. Give me the open-ended goal and all of the potentially pleasant surprises along the way anytime!
CS